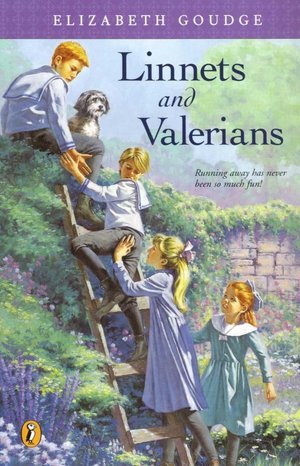 "Robert gave the box-room door a resounding kick, merely for his own satisfaction, for he knew that only the kick of a giant would have made any impression on its strong oak panels, and sat down cross-legged on the floor to consider the situation. Betsy was roaring in the bathroom, Timothy was yelling in the broom cupboard, Nan was sobbing in the linen room, and Absalom was barking his head off in the small cupboard where the boots were kept."
This is how Elizabeth Goudge introduces the four pseudo-orphaned Linnet children (and their dog) in the opening of her 1964 novel, Linnets and Valerians.
I thought this was going to be one of my favourite Elizabeth Goudge novels, and certainly my favourite of her children's books.
But it was not to be.
The wonderful, Goudgian characters and settings, given in richly allusive language, are all present and correct -- but my favourite feature of her writing is missing: a Christian worldview. I'm not meaning to cast doubt on Goudge's Christianity, but in a few of her books I feel like her worldview just goes AWOL, and this is one of them.
Consider the novel's treatment of the following themes:
Paganism: Protection against evil for the children comes in the shape of such guardians as bees and rue, relics of English paganism. Anybody who knows Goudge's stories also knows she was perfectly capable of writing of God's sovereignty and compassion with great poignancy and power. In this book, she just decided to swap out the Living God for a herb.
Redemption: For the evil-doers (and I'm talking some mean customers), redemption comes because they suddenly sense they're beaten and decide to skip town and/or be good from then on. Who knew it was this easy?
Forgiveness: Again, it's something that just happens in this book, on the spur of the moment and without any real effort because everyone's so happy they can't remember that they've been put through absolute heck for years. This is called forgetfulness. Forgiveness is hard.
Witchcraft: The turning point in the book for me was when the good guys decide to actively use "white magic" (herbalism, charms, rituals, etc) to combat the villain's very black magic. Make no mistake, this is not an allegorical/representational "magic" to signify the supernatural (as in Lewis' Narnia). God and the Church also exist in the book, but in a pallid, this-is-what-we-do-on-Sunday-before-we-eat-roast-beef sort of way.
Don't get me wrong. There is a lot to enjoy in this book. The scenes of Uncle Ambrose home-schooling the children (along a classical model) are some of my favourite Goudge scenes ever. The Edwardian Devonshire village and parsonage are among the most unabashedly delightful settings I've encountered in literature (and the descriptions of food...oh, my. Pass the yorkshire pud, please!). These details would make the book an ideal 'comfort read'.
But because of the serious worldview problems...let's just say this won't be on my children's reading list any time soon. There's much better stuff for them to cut their teeth on - stories that will tell them the truth about the big things:
Forgiving those who have wronged you is hard work.
"Let us do evil that good may come" is never a good idea.
Real protection and redemption are gifts of our Saving and Sovereign God.
All lessons that Goudge knew - and wrote about elsewhere - very, very well.
For these and other truths, read:
George Macdonald's stories, especially The Lost Princess: A Double Story
The Chronicles of Narnia by C.S. Lewis
To turn your children into Anglophiles, read these books* by Rosemary Sutcliff:
The Armourer's House
The Queen Elizabeth Story
Finally, some Goudge books that will turn you into a fan:
*These contain elements of 16th century English paganism - herbalism, "the Good Folk" - but they are in the spirit of "let's have fun leaving a dish of milk out for the fairies", rather than "let's entrust our lives to their protection"!